Stevie Rachelle recalls Tuff using Bret Michaels' song in the hope that it would lead to tour slot with Poison
Stevie Rachelle recalls Tuff using Bret Michaels' song in the hope that it would lead to tour slot with Poison
Tuff lead vocalist Stevie Rachelle has just released the 13th instalment of his Tuff Diaries via Metal Sludge which details the recording of Tuff's debut album What Comes Around Goes Around, which was released in 1991.
The following is an excerpt from the 13th instalment of the Tuff Diaries from the Metal Sludge website:
"Bret Michaels contributes a song last minute.
As we were right in the middle of recording Andy Secher interviewed Poison singer Bret Michaels for Hit Parader.
As you may recall from previous diaries, Andy is a partner in our label, Titanium Records.
So while Andy is chatting to Bret, he tells him that he has signed Tuff. And that Atlantic is on board, and we're in studio (right now) recording our debut.
Bret seems interested, and tells Andy: "If they need any songs, I have some."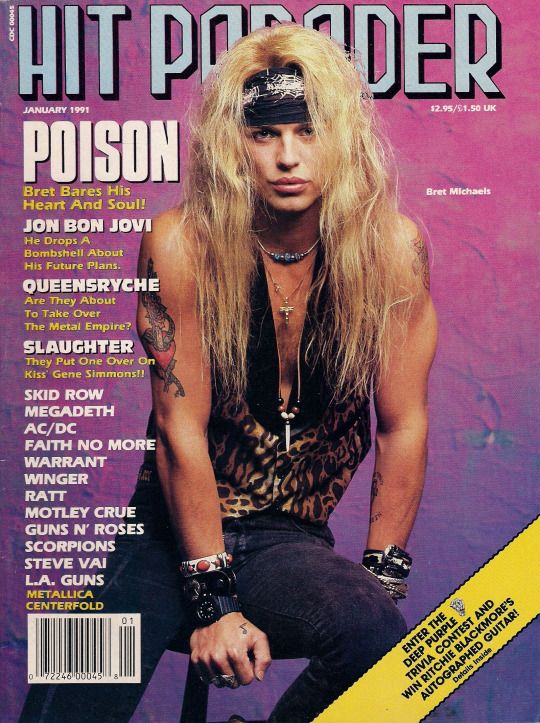 Their talk heats up, and soon Andy tells the others at the label and our management about Bret's song offer.
Of course, we were excited to hear this news but had yet to hear any songs.
At some point I guess Bret sent a tape and it ended up in our manager's hands.
Hit Parader Magazine, January 1991 with Bret Michaels of Poison on the cover. 
Remember, this is way before digital, so it was literally a cassette tape sent in the mail.
Our manager then sends the tape to us and now we get to hear it.
Upon my first listen to "Wake Me Up" I thought, "This is not Bret singing."
And the song wasn't simple, like "Every Rose…" or "I Won't Forget You".
It was more complex, higher vocal register and some minor chords.
Nothing like a Poison song.
Either way, we agreed to do it.
Howard was pumped too.
All of us were thinking: "This could lead to a tour slot, like when Bon Jovi took out Skid Row."
As most know, Jon and Richie Sambora got their hands on some publishing regarding Skid Row, and that was their way of helping to make that band break.
So in turn for their help, they would then make money off the publishing.
We were thinking (hoping) this could be the case for Tuff, with Poison.
I mean, if Bret wanted to make money off his song, on our major label debut, then he might push for Tuff to be part of a Poison tour.
Adding this, our management, Power Star, also represented Britny Fox.
Britny Fox had previously toured with Poison as support and no doubt that helped them sell records and eventually go Gold.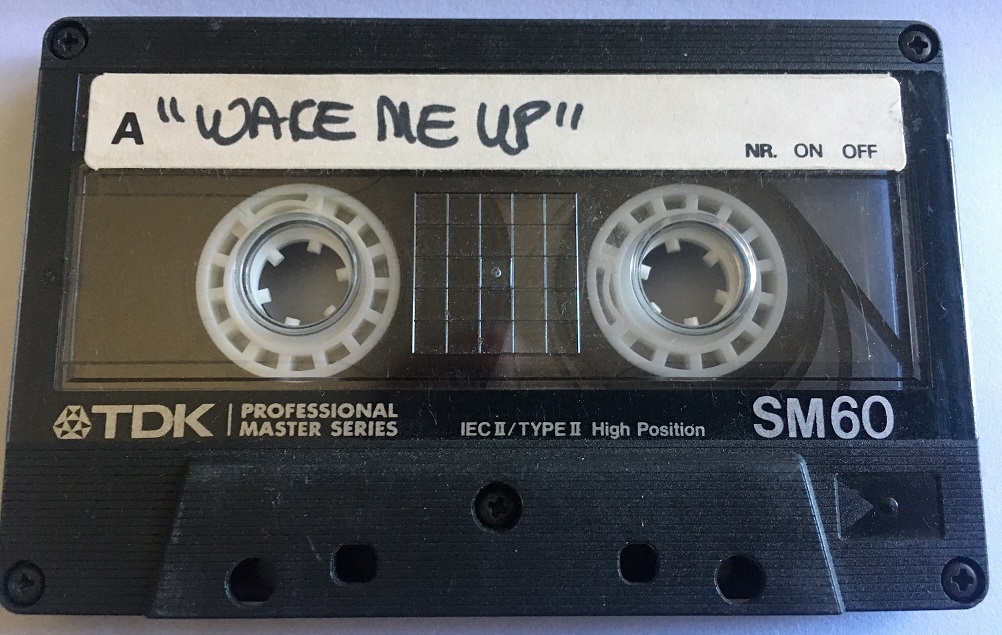 So Howard books a different studio (Sound Chamber Studios in Pasadena California) as our time at Preferred Sound was about to run out.
It's now early February and Sir Arthur Payson was already starting to mix some songs at Aire L.A. Studios in Glendale California.
Dug this cassette out of a box in my endless storage of artifacts. 
So, Howard booked us into another room for a few days to cut "Wake Me Up" and wow did he have his hands full.
Actually Howard had booked 2 of the rooms at Sound Chamber, 1 for cutting drums and bass, and the other room for doing more last minute overdubs and edits of the other songs.
Then we had the record being mixed at Aire L.A., so Howard was working producing the last song and then he'd run to Glendale to hear mixes with Arthur.
Anyway, after listening to "Wake Me Up" a few times I felt some of the lyrics and melody needed a tweak or two.
Why? I have no idea, but I did.
At some point I needed to call Bret, to get his approval to change them.
So going through the various channels, I am given a hotel and room number for Bret.
But I am told, when I call the hotel, I need to ask for Jack Cuzzi to get through.
As in, Jaccuzi.
Seriously, this was Bret's code name. #WTF
After a few days of tweaking some lyrics I get on the phone with Bret and tell him I have some ideas.
He's on the phone and now I am singing and playing "Wake Me Up" with my acoustic.
Me singing and playing: "Wake Me Up in the morning, I wanna hear you call my name, I need to hear that phone ring…" blah, blah, blah.
All this over the phone, Lol.
I found 3 faxes from Titanium, regarding the "Wake Me Up" song. Including, the one where I wrote the number down (and code name) to reach Bret while he was on tour with Poison. I called the number today, and it's still active for the Ritz Carlton Chicago.
The faxes are very faded, but the one from Titanium dated Feb. 8th 1991, suggests Bret has sent new lyrics.
It's hard to tell, but I think it also suggests, possibly using the title "Love Is Hard Game To Play".
Then the fax goes onto to suggest, that they (the lyrics) don't seem to fit the song. And we (Howard and Tuff) were asked to somehow make them work.
Which I did by making the "Wake Me Up" lyrics and idea work, by rewriting some of it myself.
So, after I re-wrote some of it, I am now singing to Bret Michaels over the phone long distance, and he's just listening.
This was pretty whacky, but it had to be done and I must say, Bret was super nice.
He agreed to the changes and we finished our chat.
Now for the record, as of this point in my career, I was known as the Bret Michaels look-alike.
And clearly Bret knew about me, along with our band Tuff.
Going back in time, for those not in the know, Tuff actually opened for Poison in their club days. Meaning Poison's club days.
When Poison went to play "Bootlegger's" in Phoenix in 1985, before they signed their deal, Tuff was the hot local band and added to the bill.
So oddly, there is some weird winding history with Tuff and Poison that goes way back to 1985.
Fun Fact: On one of those shows back in the day, Bobby Dall fucked Todd Chase's then girlfriend. Hysterical…that is some cold shit Bob! ?
Anyway, back to Bret…
Bret and I had actually met a few times but we never hung out like buddies.
The first time I met Bret was actually on their "Look What The Cat Dragged In" tour in the fall of 1986.
Poison was on tour in support of Quiet Riot, and I saw the show in Steven's Point Wisconsin.
My then girlfriend Jolane and her friend Thea went backstage, as they always got invited.
Then once she'd meet the band or crew, she'd say: "Can I have a pass for my friend?"
And the rock stars would ask: "Is your friend hot?" to which she replied: "Totally hot!"
Of course she never told them her friend, was her boy-friend. Lol.
This happened with Rikki Rockett, who gave her a pass for her "hot friend" who ended up being me.
Long story short, I got backstage, and met the Poison guys, or at least Bret for a minute, Bobby Dall for less and Rikki Rockett too.
That night I asked Bret for a beer as he walked off their bus, but he quickly declined.
Why the fuck I asked him for a beer, I'll never know, as I don't even drink, but I guess I was just trying to hang out.
However that night I did hang with Rikki, his girlfriend (Danielle) and my girlfriend (Jolane) and some others.
Rikki was super cool to us and even invited us back to his motel room.
And note, this was only a few months after "Cry Tough" was released, but before they blew up with "Talk Dirty To Me".
Once I was in Tuff, I recall meeting Bret again in the fall of 1987 at a house party in Van Nuys.
We also said hello and shared a handshake at a TJ Martell Charity softball game somewhere along the way.
Then at some point I was invited to Bret's house for a barbeque, but it was horrible timing.
The invite was for a weekend where Tuff was booked to play out of town, so I never got to go.
Other than a few little run-ins, and a phone call or two we didn't know each other well.
If Bret and I had anything in common – besides growing up in the Midwest, our German roots, blond hair, blue eyes and love of Van Halen – it was girls.
There were more than a few girls who we both seem to have had… relations with.
Including Playboy Playmate Susie Owens.
Then there was a strange by chance car-ride to Hollywood from the Valley with some girl, and her friend – Susie Hatton.
There were also select others, including strippers, porn stars and groupies coast to coast.
Anyway…the Bret song was recorded, the track came out great and the album is now set.
We can only hope something develops in the way of friendships and business dealings with Poison.
Time to mix and master this thing… fingers crossed!"